It's Thursday and you know what that means...
THROWBACK THURSDAY!
And while technically we won't be showcasing a card today, we will be discussing that time when Christmas came early for Aggies everywhere...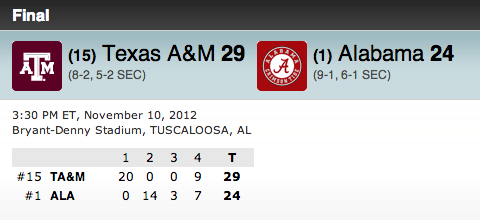 Today we will treat you with a few of our favorite highlights from last year and maybe even some gameday predictions for Saturday. And don't be fooled by our expertise of all things merry - we are Texas girls, so we know football. We are expecting a phone call from ESPN shortly.
Without further ado, our top 5 favorite moments from 2012...
5. As avid readers, we like a good foreshadow in the story. You can't get much better than this...
Kliff, you know you miss us. You can come back to Aggieland anytime.
(And yes, we know this was during the Mississippi State game...but what kind of ladies would we be if we left it out of our top 5!)
3. Basically every time Swope had a reception....
2. Our personal text messages back and forth. Merry Momma K was out of town and unable to watch the last quarter of the game. She was dying. Seriously. There were lots of stares from random people at the reactions she had to the messages at the end. Here are just a few....
Please note, dear readers, our love for you. We text each other at least 100 times a day. At least. This game happened almost a year ago. That's lots of texts to go through. :)
1. Some believe it's the greatest play of the season. We believe it's the moment when we really discovered bladder control post babies.
And now for our predictions:
Katy - I think this is the time for us to introduce Aggieland to the world. This is the day when Kyle Field will yell louder, stand taller, and bleed maroon more than any game before. This is the day to prove that we aren't just "in" the SEC, but that we are major players in the best conference in the nation.
I also predict that at some point, I will scream at the television, accidentally hit my husband, cry, and maybe even let my kids do whatever they want for the entirety of the football game.
And. I predict that at the end of the game, no matter the score, the Aggies will be more proud of their team than any other fans in the nation.
Cindy - Predictions...I have a list. I like lists! :)
1. The sun will shine down brightly on Aggieland Saturday morning!
2. Aggies everywhere will put on their MAROON proudly.
3. Aggies will get to game watching parties, tailgates, friend's houses, Kyle Field EARLY.
4. Lots of good food will be consumed.
5. Lots of good beer will be consumed.
6. There will be an electric feeling in the air - It's called the Aggie Spirit!
7. Kyle Field will be packed.
8. Grandmothers may have to use sports words (my granny's word for cursing) because of some announcers. (I'm mostly looking at you, ESPN!)
9. The Fightin' Texas Aggie Band will win halftime.
10. Johnny will do something crazy.
AND THE AGGIES WILL WIN!